I'll have new works on display alongside Megan Massacre and Mat Hurdatdo at Sacred Gallery, opening October 3rd. More info & press release below!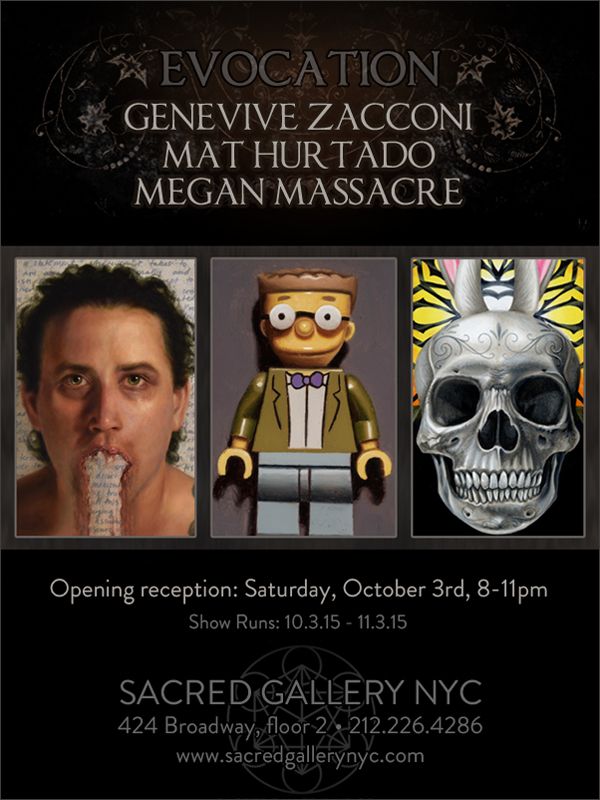 Evocation: Genevive Zacconi, Mat Hurtado & Megan Massacre
October 3rd – November 3rd, 2015
Opening Reception: October 3rd, 8-11pm
New York, NY – Sacred Gallery presents Evocation, featuring the art of Genevive Zacconi, Mat Hurtado, and Megan Massacre. While the artists' aesthetics and subject matter vary greatly, each body of work evokes a different and distinct realm of emotion, joining together to create a diverse and powerful exhibition. All three artists will be in attendance at the opening reception.


GENEVIVE ZACCONI:
"In my new series for 'Evocation,' I'm expanding upon ideas I have been exploring in previous smaller-scale works of mine by combining elements such as handwriting, graphite drawings, and oil painting all within one composition. Thematically, the art is inspired by the development and demise of interpersonal relationships, and in part, the role of digital communication in these paradigms as our social histories (ranging from the mundane, to the beautiful or even painful) are now preserved in detail via cellular messaging and emails. All of the text I used was taken from various personal, typed correspondences I have amassed over the years, and transcribed into handwriting for the artworks. The square dimensions I've employed were intended to reflect the format used on social networking sites, as most people can now trace their life in photos posted online – and for many creative people, even the various stages of their own work. Similarly, many of the artworks in this series show chronological stages of progress, or appear to have the final layers of paint removed, in keeping with the themes of progression and deconstruction, and its documentation."
Genevive Zacconi's paintings have been displayed at galleries including Copro, Kat Von D's Wonderland, La Luz De Jesus, Thinkspace and more. She has been featured by MSNBC, Bizarre, Juxtapoz, Hi-Fructose, Coagula Art Journal, and NY Press, amongst other publications. In addition to creating her own art, she was the director of Trinity Gallery in Philadelphia, headed the first Philadelphia branch of "Dr. Sketchy's Anti-Art School", worked as painting assistant to Ron English, was co-founder and director of Last Rites Gallery in New York City, served as a curator for the world's largest erotic art expo, and also has written about art for media outlets including Tattoo Society and Hi-Fructose. Genevive currently lives and works in Philadelphia.
MEGAN MASSACRE:
Megan Massacre's art explores her numerous passions in life by combining elements of tattoo art, lowbrow iconography, and underground culture. Working in multiple mediums such as watercolor, acrylic, oil, marker, ink and colored pencil, she creates daring imagery that grabs attention in both its confrontational compositions and bold color pairings. In her new series for "Evocation" Megan continues along this path, in what will be the largest exhibition of her fine art to-date.
Standing out amongst the talent featured in two of TLC's reality shows, America's Worst Tattoos and NY Ink is Megan Massacre – her artistic savvy, engaging personality, and stunning good looks illuminate her multi-faceted, cross platform appeal. Megan most recently made guest starring TV appearances on E!'s Secret Societies of Hollywood and MTV's Girl Code during its third season. Megan has been tattooing since 2004 and her artwork can be described as creepy yet cute, merging dark imagery with vibrant colors to create a unique, whimsical style that is of no other. To continue this passion, Megan has recently joined forces and added a tattoo shop to New York's Grit N Glory, a men and women's clothing and accessory shop, in order to combine her tattoo artistry with fashion in New York's Lower East Side. Megan has begun collaboration with clothing and accessory brand Sprayground as well as launched a design, "Envy," in a new collaborative fashion collective, American Tattoo between apparel maker Affliction and Inked Magazine. A passionate vegetarian supporter of animal rights, Megan is also the host of PETA2's video series, Cruelty-Free Beauty, to show off her go-to items and beauty products. As a fine artist, Megan has spent the past decade creating work which has been exhibited in shows both inside and outside of the tattoo world.

MATT HURTADO:
"I'm pretty much a big kid at heart. I started doing these little lego paintings because I grew up playing with Legos, watching Star Wars, reading comics. So now that I'm older I enjoy re-creating them Into paintings. So I hope when other people see this series it will bring back the kid inside of them and hopefully bring them joy."
Mat Hurtado is a 25-year-old Chicano artist who lives and works in the Los Angeles greater area; an emergent artist in the medium of painting who is also a tattoo artist and member of the Black Anchor Collective. His artwork is a convergence of childhood memories and adult experiences with fine art aesthetic representations and a hint of his own subjectivity as rendered on canvas.

ABOUT SACRED GALLERY:
Sacred Gallery NYC was established in December of 2009 by gallery director Kevin Wilson. The gallery has for over five years exhibited the work of graffiti artists, painters, photographers, print makers, comic book artists, and documenters, utilizing a variety of mediums, including blood and live performance graffiti. The gallery prides itself on the accommodations that are provided to the diverse communities of artists that New York City and the world have to offer. Sacred Gallery and its sister business, Sacred Tattoo, have been featured with the BBV, National Geographic Channel, Discovery Channel, MTV, TLC, New York Times, The Huffington Post, The Daily News, The Village Voice, various tattoo magazines, and many other forms of news and media.